About Nancy
On May 22, Nancy Leonard, a member of the Washington Metropolitan Accordion Society (WMAS), performed in "Montgomery's Got Talent -- The Premier Senior Talent Showcase" at the Bethesda Theater in Bethesda, Maryland.
She played a medley of accordion melodies: "River Seine", "Once In a While", "La Vie En Rose", "A Foggy Day" and "Hoe Down Shuffle".
The show consisted of the finalists chosen for their wide variety of talents as instrumentalists, singers and dancers. This event was covered by the Washington Post and local media.
Nancy began studying the accordion at age 10. She played in two polka bands in her youth and on a float in Atlantic City. As an adult, she studied accordion with Dr. Carmel Pino. Nancy continues to perform in and around the Washington, DC area. Nancy's present coach is Tony Lovello, the Liberace of the Accordion.
---
Nancy Entertains at Club Hatikvah
At its February meeting, personable, charming and talented accordionist, Nancy Leonard, was the evening's fab entertainer.
Nancy's wide musical repertoire includes literally everything! Ballads, country, French, German, Greek, Hungarian, Irish, Italian, Jazz, Jewish, Polish, show tunes, Spanish, Russian and waltzes. WOW! All the above, while walking in stylish fashionable high heels, carrying a 16.5-pound custom accordion made in Italy!
Accordionist Nancy informed everyone that The American Accordionists' Association Festival is July 11-15, at the Sheraton Inner Harbor Hotel. A big accordion concert is Saturday, July 14! If you are interested in attending, or for more info, go to www.ameraccord.com.
---
Cool Summer Music by Nancy
From Schweinhart Senior Center at Forst Glen JULY 2012 Newsletter: Featuring Nancy Leonard, the Accordion Queen of Washington, D.C. - Monday, July 16, 2012 - 1pm - Enjoy an eclectic array of musical entertainment performed by Nancy with her flair and marvelous style. From ballads to show tunes, in Greek, Italian Jewish and more – you will be dazzled by her talent and personality. Free. Space limited.
---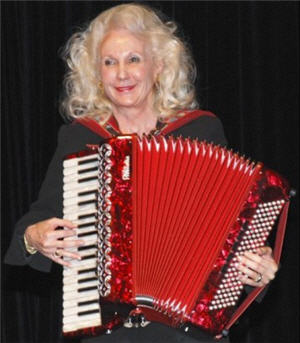 ---