The Nancy Leonard Ensemble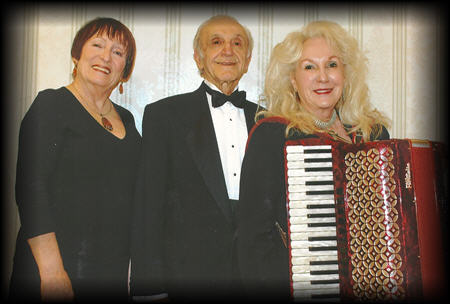 The Nancy Leonard Ensemble is comprised of an accordionist and two vocalists. We seek opportunities to perform concerts all over the globe. Our ensemble has a vast and comprehensive repertoire of songs from such musical categories as International Songs sung in nine languages: Italian, German, French, Spanish, Yiddish, Hebrew, Russian, Latin and English. Our repertoire also includes Operettas, Opera, Musical Theater [Broadway Hits], Inspirational/ Religious music, Old Time Favorites and Standards. The ensemble also leads audiences in sing-a long sessions to provide audience participation.
Nancy Leonard [ Accordionist ] studied music and the accordion under Dr. Carmelo Pino from Catholic University's School of Music and who has been a frequent performer at the Kennedy Center. Nancy is an active member with the American Accordion Association and has performed with the Washington Metro Accordion Society (WMAS) in Buffalo, Cleveland, Detroit, Gettysburg, Orlando, Philadelphia and throughout the Washington/Baltimore Metro area including Falls Church, Alexandria, Bethesda and Silver Spring, and Baltimore area. Nancy has been a part of the Frank Marocco Fifty -Piece (50) Orchestra in the annual concerts held in Mesa, Arizona. Nancy belongs to the Phoenix, Arizona Accordion Club and the Florida Accordion Association. Her repertory includes selections of Ballads, French, Greek, Irish, Italian, Jewish, Russian, and Polish. She performs Polkas, Ballads, Show Tunes and Waltzes for musical entertainment and much of this music is available on her two (2) CD's.

Donato Soranno, Tenor; and Ilona Dulaski, Soprano are classically trained singers who performed in various venues such as The National Theatre in Washington, DC, music festivals, restaurants, country clubs, community centers, senior centers, retirement communities, social clubs, churches and private parties. Live performances of the ensemble have been videotaped and aired on television. DVDs and CDs are available on the Internet for viewing and downloading. The website address is www.donatosoranno.com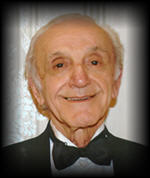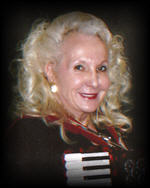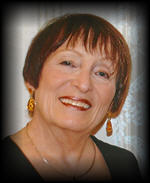 ---